San Marcos is called by some residents "San Marvelous" for good reason as the growing Texas city has a friendly, small-town vibe with activities and entertainment that make for a big-time lifestyle. Nestled off I-35 between Austin and San Antonio, San Marcos has seen its population double since 2000 to nearly 67,000 residents.
Long known as a haven for day trippers and college students thanks to its spring-fed San Marcos River and its year-round 72-degree waters, along with world-class outlet shopping, a vibrant music and food scene, and cultural and athletic events surrounding Texas State University, San Marcos is increasingly becoming a destination for retirees, families, and businesses.
"There are a lot of great things going on here in San Marcos and along the 35 corridor," Jason Mock, President of the San Marcos Chamber of Commerce told KVUE. "There are more residents moving here than college students moving here, so we're seeing a great mixture, you know, we're blessed to have Texas State in our backyard and I think that's what makes San Marcos a great place."
San Marcos is County Seat of Fast-Growing Hays County
San Marcos is the county seat for Hays County, which according to Statista, is the second-fastest growing county in the United States between 2010 and 2019 with 46.5 percent growth.
Located just over 35 minutes south of Austin and just under an hour north of San Antonio, San Marcos has garnered the attention of list-makers including the following accolades:
Forbes named San Marcos the "Best Places to Retire" in Texas
Thrillist names San Marcos one of "America's Best Small Cities to Move to"
San Marcos is described as a quirky, outdoorsy college town and "home to all that was great about Austin 30 years ago," writes the Matador Network.
San Marcos History: Life on a River That Never Runs Dry
Archaeologists have found evidence that the San Marcos River, which has never run dry in its recorded history thanks to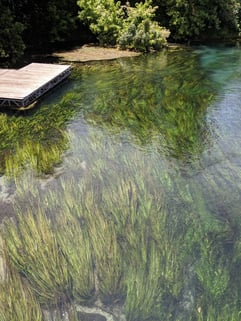 its spring-fed water, may have been the site of human habitation more than 10,000 years ago.
San Marcos derives its name thanks to a 1689 expedition led by Spaniard Alonso de Leon along what would become the Camino Real or Old San Antonio Road, which originally ran through present-day San Marcos.
Reaching the San Marcos River on April 25, the feast day of St. Mark the Evangelist, the river was thus christened "San Marcos".
The city's history then unfolded:
A short-lived settlement by Mexican families from 1808 to 1812 was called Villa de San Marcos de Neve but was abandoned after floods and raids by local Native Americans.
In 1846 settlers arrived in the area after Texas joined the United States.
By 1848 Hays County was created with San Marcos as the county seat.
In 1851 the town center was laid out about a mile from the San Marcos headwaters.
San Marcos became a center for milling and ginning.
The city received a boost when Gen. Edward Burleson, a hero of the Texas Revolution and former Republic of Texas Vice President, moved to San Marcos. He laid the town out and opened the firs sawmill.
Population grew rapidly with the arrival of the International-Great Northern Railroad in 1880 as the area became a commerce and transportation hub for cotton and cattle.
In 1899 Southwest Texas State Normal School, now known as Texas State University, was opened.
Texas State University Makes San Marcos A True College Town
Texas State University, with some 38,000 students, makes San Marcos a true college town. The university, which sits on 492 hilly acres along the San Marcos River, is home to such famous alum as Lyndon Baines Johnson, where the future president was editor of the school newspaper, and country music legend George Strait.
It might also recognize the campus from the Friday Night Lights television series where it stood in as TMU (fictional Texas Methodist University).
In addition to Bobcat athletic events – some 33,133 fans crammed into 30,000-seat Bobcat Stadium in 2016 to watch the football team take on Houston – university life offers residents the following activities:
The Wittliff Collections: Austin screenwriter and photographer Bill Wittliff and his wife Sally founded this on-campus collection with exhibitions which are free to the public and open seven days a week. Current collections include women photographers, Edward Curtis photography, Lonesome Dove Collection including props and costumes, music icon Ray Benson, and Buck Winn's The History of Ranching Mural.
Cheatham Street Warehouse: While not an official part of Texas State University, the legendary honky-tonk music hall was opened in 1974 by alums. In 1975 student George Strait and the Ace in the Hole Band played their first shows at the venue. In the 1980s, a young Steve Ray Vaughn played every Tuesday night. Cheatham Street Warehouse, located in a 1910 grocery warehouse along railroad tracks, is still open today.
Meadows Center for Water and Environment: Located on Spring Lake on campus this center is on the grounds of the former Aquarena Springs, once known for its underwater theater, "aquamaids" that ate pickles and drank Dr. Pepper under water and Ralph the swimming pig, famous for his "swine dives". Today you can snorkel, scuba dive and take glass-bottom boat tours on the unique body of water. The site was also home to early found Dr. Eli Merriman's cabin and General Burleson's home as well as a 100-year-old working gristmill.
Shop Till You Drop and Other Things to Do in San Marcos
Two giant outlet malls sitting side-by-side on I-35, San Marcos Premium Outlets and Tanger Outlets San Marcos, make the area a must-destination for shoppers. The two malls combined have nearly 250 stores and over a million square feet of shopping. ABC's "The View" named the area the best place to shop in the world behind only New York City and Dubai.
Other things to do in San Marcos: