No one does football like folks in Texas. Whether you're a newcomer to the Lone Star state or are born and raised here and have football in your veins, you should know just how important the sport is in local culture. During football season, people gather in towns all across Texas every week to support their teams, while everything else seems to come to a virtual standstill.
When the bright lights illuminate a town's stadium, they showcase a serious tradition built on a deep love for the game and a major feeling of community involvement. In fact, love for the high school football team the Panthers in Odessa, Texas was so strong, it inspired the book "Friday Night Lights," as noted by the Texas Tribune. From the book came a movie and then a popular TV series.
With this enormous enthusiasm for football, cities in Texas are well known for the traditions of Friday Night Lights. Read on for highlights of this important Lone Star State way of life.
Inspired by Odessa
Ratcliff Stadium in Odessa, Texas is where the Permian High School Panthers of Friday Night Lights fame do battle with their opponent, the Broncos of Odessa High School.
The fierce rivalry has locals' ears glued to their radios listening to sportscasters rattling off statistics about recent games and the team's future prospects. They have reason to be proud of the excellent athletes in the community. According to Sports Destinations, Odessa is home to one of the Top 10 sports facilities in high schools across America, per USA Today's ranking.
Homecoming Mums
One tradition centers on the homecoming game, traditionally the final game of a team's football season (but now often the last of the pre-district games in high school). It's marked with ceremonial homecoming mums. When you arrive at a stadium, you'll be sure to see the women all festooned with beautiful flowers for game day.
The tradition began with young men offering a corsage of a single chrysanthemum bloom ("mums") to their dates. Now, they often give their dates a large arrangement of silk flowers, which are prized because they don't wilt like the real thing during the half-time ceremony held on the football field's 50-yard line.
Rivalries Heat up on Friday Nights
Rivalries between opposing high school football teams are often quite long-lasting in Texas, making Friday Night Lights events exciting spectacles that fill the stadiums with fans. For example, one of the lengthiest rivalries between El Campo and Bay City has its origins in 1911, per Small Town Football. To date, the team from El Campo is in the lead by 58-40-7. Or consider Longview and Marshall in East Texas have been fighting each other since 1909.
The competition in Texas is so intense that cities will repaint their stop signs from red to black just to avoid linking the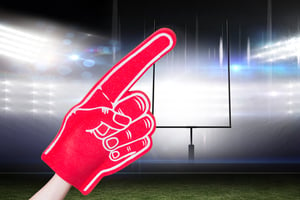 color red to one football team over another.
Sometimes participants are surprised by the level of competition between teams. Mike Burt, who began his first year as head football coach at Dumas High School in 2007, once saw metal pitchforks installed near the home locker room of their opponents, the Demons of Plainview. When Burt walked outside again before the game, he noticed that the pitchforks were on fire. That's the tradition the Demons use to get them motivated to play hard, according to the Amarillo Globe-News.
Symbolic elements to represent your football team are quite common. The Hereford Whitefaces bring an imposing replica of a bull that's the size of a trailer to every stadium they play in. Nicknamed the Hostile Herd, the team actually initially borrowed the bull mascot from The Big Texan Steak Ranch until they bought their own bull replica in the 1980s.
Meanwhile, fans of Tascosa football are treated to such sights as the Rebels carrying their traditional black flags, called "mojo flags" when playing against the Panthers (of Friday Night Lights) at Dick Bivins Stadium. And at Comanche Field, located close to the town of Stinnetts' West Texas High School, the team's booster club and coaches put up a teepee before each game in a tradition that dates back to 1987. It's to show school pride as well as to demonstrate an intimidating presence.
Uniting Fans All Across Texas
The statewide popularity of Friday Night Lights football celebrations in Texas shows just how important sports are for strengthening community ties. Game nights help unite folks as they show their pride for the local heroes working their way to the end zone to withstand the competition.