Texas, home to some of the best bass spots in the U.S., has some 7,000 lakes and reservoirs spread across the state with miles of shoreline to enjoy boating, swimming, hiking, swimming and much more.
Despite not naturally possessing a multitude of lakes, Texas in the last century has created an extensive system of reservoirs to help tame its 23 river basins.
While Texas had just four major reservoirs with a total storage capacity of 288,340-acre feet as of 1913, today the Lonestar State has 196 major reservoirs (defined as supplying 5,000 acre-feet of storage capacity at normal operating level) with nearly nine million acre feet.
In a state where rainfall amounts can vary from 10 inches a year in the west to 55 inches a year in the east, Texas reservoirs play an important role.
Texas Reservoirs Serve 3 Main Purposes
Before the 1950s, Texas reservoirs were mainly created as flood control measures across the state.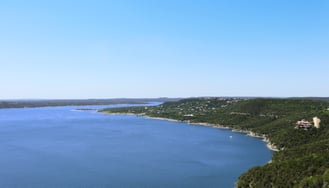 "Reservoirs are able to capture and store flood-waters for use during times of drought when the rivers are low or dry," said the Texas Water Development Board.
Population growth, however, has made these man-made bodies of water an important water supply source.
"Reservoirs are important for providing water supplies, particularly in a state with such a variable streamflow," said the Texas Water Development Board.
More than half of the available surface water in the state is from reservoirs, 8.9 million acre-feet per year for reservoirs out of a total of 13.3 million acre-feet per year.
The third function of the state's reservoirs and lakes is that they provide Texans with an avenue for outdoor pursuits unmatched across the country with the U.S. Statistical Abstract ranking Texas with more square miles of inland water, nearly 6,000 square miles, than any of the other lower 48 states.
Tall Texas Tales: There is Only 1 Natural Lake in the State
Texans love their tall tales and one that gets repeated often is that the state of Texas is home to only one natural lake, Caddo Lake located on the Texas/Louisiana border.
The Texas Monthly columnist David Courtney, aka "The Texanist", laid that myth to rest in a 2019 article:
"The pervasive and oft-repeated "fact" that the Lone Star State is home to but one single, solitary natural lake is false, on two grounds," wrote Courtney. "There are plenty of natural lakes in Texas, and the lake you surely have in mind, East Texas's Caddo Lake, isn't one of them. Not entirely, anyway."
Caddo Lake was formed when downed trees on the Red River formed a giant logjam, called the Red River Raft. Over time, this timber impediment formed Caddo Lake, which at one point was the second largest natural lake in the south.
In the late 1800s, however, the federal government partially cleared the logjam, draining down Caddo Lake. A man-made dam in 1914 created today's Caddo Lake boundaries, thought by many to be the most beautiful lake in Texas with its backdrop of Spanish moss-draped cypress trees.
Today the "East Texas Treasure" is home to Caddo Lake State Park where you can fish, paddle, hike, picnic, camp or stay in a cabin.
Boat and pier fishing for 70 species, including largemouth bass, crappie, catfish, chain pickerel, white and yellow bass, and sunfish, is popular.
Texas Oxbow Natural Lakes
Caddo Lake is also unique in Texas as it is one of the few non-oxbow natural lakes.
"Natural lakes in Texas are few, basically due to the terrain of the region. Nevertheless, there exist a few natural lakes commonly referred to as oxbow lakes," says the World Atlas.
Texas has approximately 19,000 miles of streams and 15 major river basins and sometimes these moving bodies of water will shift course, leaving part of the main river isolated, thus forming a small lake.
Sometimes just a few acres, these natural oxbow lakes are strung out across river basins such as the Brazos, Colorado, San Jacinto, Sulphur, and Trinity.
In the Rio Grande River basin area these oxbow lakes can be called resacas.
Examples of Texas oxbow lakes are:
Everything is Bigger in Texas, Including these Lakes
These natural lakes in Texas pale in comparison to the large man-made reservoirs which have become an outdoor paradise.
Two of the biggest lakes in the state are just 34 minutes apart in the east, Toledo Bend Reservoir and Sam Rayburn Reservoir:
Toledo Bend Reservoir
Largest man-made body of water in Texas and the South and fifth largest in the U.S.
Completed in 1969 with no federal funding
Located in the pines on the Sabine River on the Texas and Louisiana border
1,200 miles of shoreline
Lake has 185,000 surface acres with an average depth of 110 feet
There are 33 public ramps and marinas where you can get your boat in the water
Sam Rayburn Reservoir
Largest lake located in Texas completely within the state's borders
Completed in 1965
Located north of Beaumont on the Angelina River in the East Texas Piney Woods
750 miles of shoreline
Surface are of 114,500 acres with a max depth of 80 feet
Operated by the U.S. Army Corps of Engineers
Other Large Popular Texas Lakes
There are so many lakes to check out in Texas, many of them can be found on the Texas Lake Finder.
Some of the more popular lakes, in addition to those mentioned above, include:
Second largest lake all within Texas
Completed 1969
93,000 surface acres and 450 miles of shoreline
Shallow with an average depth of 23 feet
Located on the Texas and Oklahoma border on the Red River
Completed in 1944
89,000 acres of surface area
Six million visitors a year
Falcon International Reservoir
Located on the Rio Grande between the U.S. and Mexico.
Completed 1953
83,654 surface acres
Named for Maria Rita de la Garza Falcon, the submerged town under the lake
Another reservoir located on the Rio Grande between U.S. and Mexico
Completed 1969
64,900 surface acres
Known for its 4,000-year-old native American paintings in the area
Located at the original headwaters of the Sabine River
Completed 1960
37,879 surface area acres
Named for the Tawakoni Native American people, part of the larger Caddo Nation
In 2007, rare, large spider web at lake, stretching over 200-yards, gained attention of world's entomologists