Some of the earliest recorded wines produced in North America were by Spanish missionaries in the 1650s near El Paso, but Texas for most of its history has been identified with beer such as the iconic Lone Star longneck bottles. The Texas wine industry, however, is rapidly challenging that notion, with the number of wineries in the state tripling in the last decade.
Texas, in fact, has passed New York and Virginia in number of wineries to become the fourth largest wine state – the 470 wineries in Texas trail only California (4,763), Oregon (850) and Washington (845).
Just a decade ago, Texas had only 157 wineries, but robust annual growth at 11.5 percent since 2016 has created an economic engine with production, distribution, sales, and consumer of wine in Texas estimated at $13.1 billion annually in 2017.
Texas Wine Regions and American Viticultural Areas
There are two basic ways that Texas grape growing areas are classified – by region as designated by the Texas Wine and Grape Growers Association and by American Viticultural Area (ACA).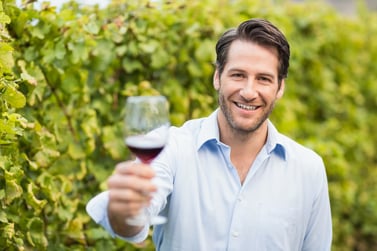 There are five Texas wine regions:
Texas High Plains and Panhandle: Produces 80 percent of wine grapes grown in Texas. Located at 3,400 feet above sea level on flat terrain with long, hot, dry summers. Cool evenings make this region great for grape growing.
North Texas: A growing area with a wide variety of soil including well-drained sandy loam which is good for grapes.
Gulf Coast: Warm breezes and microclimate highlight this grape-growing area.
West Texas: Where it all started. Dry climate, fertile soil and mild winters mark this grape-growing region, which is home to the state's oldest bonded winery, Val Verde Winery, in operation since 1883.
Texas Hill Country: Considered one of the top wine regions in the U.S. The Texas Hill Country is a wine lover's destination for locals and tourists. Limestone hills and picturesque creeks dot the landscape.
Texas is home to eight American Viticultural Areas:
Bell Mountain AVA (Central Texas) Became the first AVA completely within the state of Texas when established in 1986. Known for distinctive Cabernet Sauvignon grown in northern Gillespie County.
Escondido Valley AVA (West Texas) This AVA is 32,000 acres along the Pecos River in Pecos County.
Fredericksburg in the Texas Hill Country AVA (Hill Country) This AVA was established in 1989, two years before the larger Texas Hill Country AVA was established. Known for Cabernet Sauvignon and Chardonnay.
Mesilla Valley AVA (West Texas) Texas' first AVA established in 1985 though most of this AVA is in New Mexico.
Texas High Plains AVA (Panhandle) Most grapes grown in Texas come from this AVA which is 8 million acres with elevation ranges from 3,300 to 3,700 feet above sea level.
Texas Davis Mountains AVA (West Texas) Small AVA located in Jeff Davis County. Known for Cabernet Sauvignon and Sauvignon Blanc.
Texas Hill Country AVA (Hill Country) 9 million acres make this the second-largest AVA in the U.S. with 800+ acres planted with grapevines.
Texoma AVA (North Texas) AVA north of Dallas-Fort Worth metroplex in Cooke, Fannin, Grayson, and Montague counties.
On the Texas Wine Trails
Everything is bigger in Texas so there is more than just one Texas wine trail.
Texas Wine Trail and Tour magazine features more than a dozen Lonestar State wine trails to check out including:
Wine Festivals Hosted in Texas
Wine festivals can be a great way to sample different Texas wines in one setting.
Here are some annual Texas wine festivals to check out:
This is just a small sample with TX Wine Lover listing 159 different festivals and events where you can sample the state's wine!