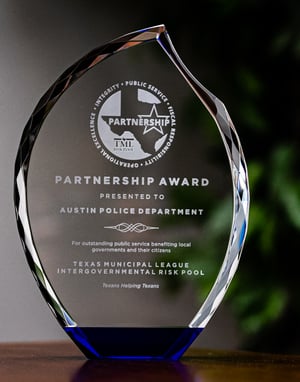 A partnership is a chain. A single link does no good in keeping the coyotes out of the chicken coop or marking a Friday night first down, and it takes each unit working harmoniously under tension to drag an axle-deep pickup truck out of East Texas clay. Celebrating the strong links is long overdue. It is with great pride that TMLIRP presents the inaugural Partnership Award to the Austin Police Department for its tireless approach to treating Post-Traumatic Stress Injuries (PTSI) in first responders.
PTSI: Defining the Problem
PTSI affects nearly 8 million Americans on an annual basis, many of whom call the Lone Star State home. Due to the nature of their various backgrounds and the chronic stress and trauma experienced in their line of work, first responders are particularly susceptible to a litany of deleterious physical problems like poor sleep and weight gain. Left untreated, PTSI can result in anger management issues, substance abuse, divorce and even suicide.
But behind every badge, there's a son or daughter. Behind every stoic facade there's a volunteer t-ball coach, a BBQ whiz or someone with a tall fishing tale. Those suffering from PTSI are often people at their very finest, struggling in silence. APD Chaplain Rick Randal has seen the devastating effect PTSI has on families and communities, and isn't content to allow first responders to become another statistic.
"I've done seven funerals in my 22 years with APD," Rick recalls solemnly. "When we started digging deeper, we noticed that we give our guys tools like a vest and a gun, but that doesn't protect their minds or their spirits. I was doing classes on negotiating with tough supervisors and dealing with day-to-day stress, but then we started asking the bigger questions about cumulative mental trauma."
A Passion for Outreach
From there, the problem was more clearly defined, and by partnering with TMLIRP, APD began developing relationships and establishing a network of concerned communities, united in their commitment to first responder outreach. Rick has also led nearly 30 Resiliency Strategies for First Responders courses all over the state,
"It's been revolutionary to connect therapists and risk management professionals in a strategic partnership, all with the same goal of getting people treatment early so this isn't a lifelong debilitating situation," Rick says. "I'm blessed because working with officers and their families is my passion. That's why I'm still doing this at 68- until I go horizontal."
Concerned advocates have their work cut out for them. It's estimated that 30-40% of first responders suffer from PTSI, and frankly, there just aren't enough Rick Randal's to go around. However, by leveraging APD's experience with TMLIRP resources, and embracing cutting edge treatment methodology, the future of PTSI treatment for first responders in the state of Texas looks promising.
The TMLIRP Partnership Award is presented on a quarterly basis to members that exhibit exemplary service to their communities, strengthen the bond between risk pool partners and espouse the core values of integrity, public service, fiscal responsibility and operational excellence. To nominate your entity or municipality, reach out to your TMLIRP loss prevention representative.