Everything really is bigger in the Lonestar State including outdoor activities available to residents with the Texas State Park system covering a massive 630,000+ acres spread across 89 state parks, natural areas and historic sites. From the Big Bend Ranch State Park along the Rio Grande in West Texas to the Caprock Canyons State Park in the panhandle to Mother Neff State Park outside of Waco, Texans and other visitors can enjoy biking, boating, bird watching, camping, caving, fishing, hiking, horseback riding, mountaineering, rock climbing and much more across the Texas State Park system.
Stretching from the smallest Texas State Park (16-acre Old Tunnel State Park in Fredericksburg) to Big Bend Ranch State Park, that sprawls over 311,000 acres, the Texas State Parks are reopening limited availability due to the COVID-19 crisis and the February storms in the state.
"We're excited to welcome more visitors to our parks," said Rodney Franklin, director of Texas State Parks. "Prior to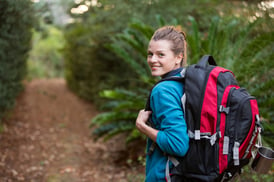 COVID-19, and throughout the last year, our parks have seen growing visitation and our teams are working hard to accommodate those who want to get outside and experience the incredible natural and cultural resources our parks have to offer."
In a March 10, 2021 release, the Texas Parks and Wildlife Department (TPWD) said that "Texas State Parks have begun a strategic and thoughtful process of expanding capacity statewide".
Still a Limited Capacity at Some Texas State Parks
Some of the Texas State Parks will continue to operate at limited capacity, while others have expanded back to full capacity.
"A few parks are still recovering from Winter Storm Uri and are completing repairs or have other operational considerations," the Texas States Parks March release said. "Capacity limits were already typical before the pandemic for some heavily-trafficked parks, to protect natural resources and to make the visitor experience safe and enjoyable."
It is projected that many Texas State Parks will reach capacity for both campers and day-use visitors on holidays and weekends. Many popular parks, especially those in Central Texas, are already booking up for Spring Break and the summer months.
Check for Availability Before Visiting a Texas State Park
There can be nothing more disappointing than to load the family pick-up, travel a distance and then find out that the Texas State Park you are visiting is at capacity. To guarantee entry, make day pass and overnight reservations online or by calling (512) 389-8900.
Remember also, that wind, weather, and wildlife can also impact Texas State Park facilities. Find out the latest information on Facebook and Twitter. For accessibility information, check out the Texas State Parks Accessibility page.
"This time of COVID-19 has reinforced the power and criticality of providing quality, accessible, and affordable outdoor recreational opportunities for all Texans," said Carter Smith, TPWD Executive Director. "Getting outdoors is essential for people's physical and mental health, and Texas State Parks play a critical role in meeting this need."
Texas State Parks COVID-19 Safety Guidelines
While Texas State Parks are in the process of opening back up to full capacity the TPWD reminds residents that safety is their focus as the COVID-19 pandemic continues.
"We want Texans to know that the safety of our visitors and our park staff is our top priority as we increase visitor capacity," said Franklin.
Park staff will continue to follow COVID-19 safety guidelines in the parks and recommend that park goers:
Maintain at least a six-foot distance from anyone not in your group, if possible.
Wear face coverings when you are inside state park buildings or when you can't maintain a safe social distance.
Minimize time spent in park offices and guarantee entry by making reservations for both overnight stays and day passes.
Texas State Parks Frequently Asked Questions
It is always a good idea to prepare for your trip to a Texas State Park before you hit the road. Here are some general answers to some frequently asked questions residents might have about their upcoming trip:
Alcohol: It is against the law to drink or display alcohol in a Texas State Park public place, which includes all outdoor areas.
Fires Safety: You can build a campfire in most Texas State Parks, unless there is a local county burn ban, but you must follow fire safety guidelines. Check with your local state park contact page or ask park employees for advice.
Fireworks: Are not permitted at Texas State Parks.
Handguns: You can not display or fire your handgun in a Texas State Park but may be permitted to carry your handgun in many of the parks with a valid handgun license. Handguns are not allowed in Texas State Parks leased from the federal government. Check with your local park for specific rules.
Pets: You can bring your pets to Texas State Parks but they must be kept on a leash, in a vehicle or crated at all times. There are other rules such as having proof of current rabies vaccination for your pet with you.
Check Out These 10 Texas State Parks
There are so many Texas State Parks to choose from but here are 10 favorites as chosen by Brad Lane in PlanetWare.
Big Bend Ranch State Park (1900 South Saucedo, Presidio)
Palo Duro Canyon State Park (11450 State Highway Park Road 5, Canyon)
Colorado Bend State Park (2236 Park Hill Drive, Bend)
Franklin Mountains State Park (Tom Mays Park Access Road, El Paso)
Guadalupe River State Park (3350 Park Road 31, Spring Branch)
Longhorn Cavern State Park (6211 Park Road 4 S, Burnet)
Pedernales Falls State Park (2585 Park Road 6026, Johnson City)
Brazos Bend State Park (21901 FM 762 Road, Needville)
Enchanted Rock State Natural Area (16710 Ranch Rd 965, Fredericksburg)
Hueco Tanks State Park & Historic Area (6900 Hueco Tanks Road No. 1, El Paso)