At times it can seem like the Lone Star State has just one long season: hot!
Believe it not, summer will end soon in Texas and the fall months will bring with them cooler temperatures, the comforting sounds of Friday Night Lights, and a chance to see some beautiful autumn colors.
Right next to carving pumpkins, handing out treats to the little ones at Halloween, and getting lost in a local corn maze is the chance to hit the Texas highways and glimpse the fall colors.
Best Month to Hit the Road for Texas Fall Colors
No two fall color seasons are the same as timing for peak conditions is dependent on temperatures and other weather conditions.
Olga Valchyshen writing in Rove says that mid-October to early November is usually spot on for viewing the changing leaves and other colors in Texas.
"October brings some coolness and relief from summer heat to Texas," writes Valchyshen. "With its incredible diversity of landscapes, Texas is a great destination for a fall foliage drive."
Trip Savvy write Lauren Himiak agrees on the timing saying that "the entire month of October is prime for spotting fall foliage, but the peak time (for Texas) is typically mid-to-late October."
Of course, Himiak points out timing fall colors is far from an exact science.
"Keep in mind that it's difficult to predict exactly when the leaves will turn in any given location. The best strategy is to select your travel dates in advance but not your destination," Himiak writes.
Fall Color Road Trip: Know Before You Go
Before you jump in your truck with the family and head for some fall colors, you should keep in mind that many Texas fall foliage destinations can get quite congested.
At Lost Maples State Natural Area in the Hill Country, one of the Lone Star State's prime autumn destinations, you can expect delays, traffic congestion, and capacity closures on fall weekends, and the week of Thanksgiving.
Prior to going you can:
Lost Maples is one of the state parks in Texas that provides a weekly foliage report which even includes photos of current conditions. The reports start in October each fall.
Where to Find the Fall Colors in Texas
You can find fall colors in Texas from the Piney Woods area of East Texas to Guadalupe Mountains in Southwest Texas to Texas Hill Country outside of San Antonio and Austin to North Texas.
Here are some of our favorite spots:
Texas Hill Country
Lost Maples, with its spectacular colors of red, orange, and yellow, is just one of the spots in Texas Hill Country worthy of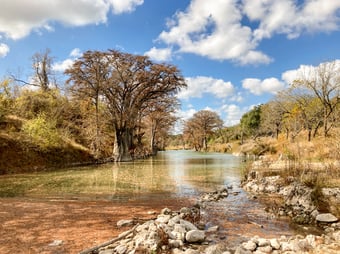 a weekend road trip.
Lost Maples is under two hours outside of San Antonio on the banks of the Sabinal River. While you can drive about a mile into the park to view the fall foliage, the best viewing will be on foot on one of the area's five trails.
The East Trail is a challenging 3.1-mile route that will take you by bigtooth maples, bald cypress, red oaks, and sycamore trees along the spring-fed Sabinal. The approximately three-hour hike features scenic views.
Garner State Park on the Frio River just north of Uvalde is another prime fall color road trip destination. Maples, cypress, oak, persimmon, and mesquite trees produce a cornucopia of autumn colors in Garner State Park.
East Texas
Winnsboro Online Guide features three Autumn Driving Tours you can take through East Texas including:
Blue Tour: Original Autumn Trails Tour that covers 30 miles. Starts at City Park, the Municipal Airport, Caters Lookout, Latta Park and Plaster Shop, Mt. Zion Cemetery, 4-D Guest Ranch, Bent Pine Gallery, and Smyrna Church.
Pink Tour: Also covers 30 miles. Its route starts at Car Azbell Memorial Park at the intersection of Highway 515 and Highway 37. It continues on to the Trails Inn Motel, Lake Winnsboro, Lions Park, Pleasure Point, Captain Henry Stout Roadside Park and Stout Family's Cemetery, East Point Lookout, Big Woods Springs, Ogburn Community, and back to American Legion Park.
Orange Tour: Covers 24 miles and starts at Winnsboro City Park. The tour takes you to Chalybeate Springs, Scroggins General Store, Texaco Oil Refinery, Lake Cypress Springs, State Roadside Park with natural springs, Peckerwood Flats, Lake Franklin and the back to Winnsboro.
For those that want to hit a colorful state park in East Texas there are plenty of choices including Daingerfield State Park and Tyler State Park.
At Daingerfield try the Rustling Leaves Nature Trail which is an easy 2.4-mile trail through the "Cathedral of the Trees" that surrounds the lake.
At Tyler you can hike the Whispering Pines 1-mile trail surrounded by the towering pines that were planted by the Civilian Conservation Corps (CCC) over 70 years ago.
North Texas
Dinosaur Valley State Park in North Texas, and a short drive from the Dallas-Fort Worth metroplex, is home to elms, hackberry, sumac, sycamore, and Texas red oak trees. While looking at the colors, watch out for dinosaur tracks that were created some 113 million years ago!
Southwest Texas
For those that do not think Texas has mountains, they have not been to the Guadalupe Mountains National Park in Southwest Texas with a peak elevation of 8,751 feet.
For those with time, try the 4-to-6-hour McKittrick Canyon day hike to The Notch at Guadalupe Mountains National Park that leads to dramatic views, including ash and oak trees changing colors.