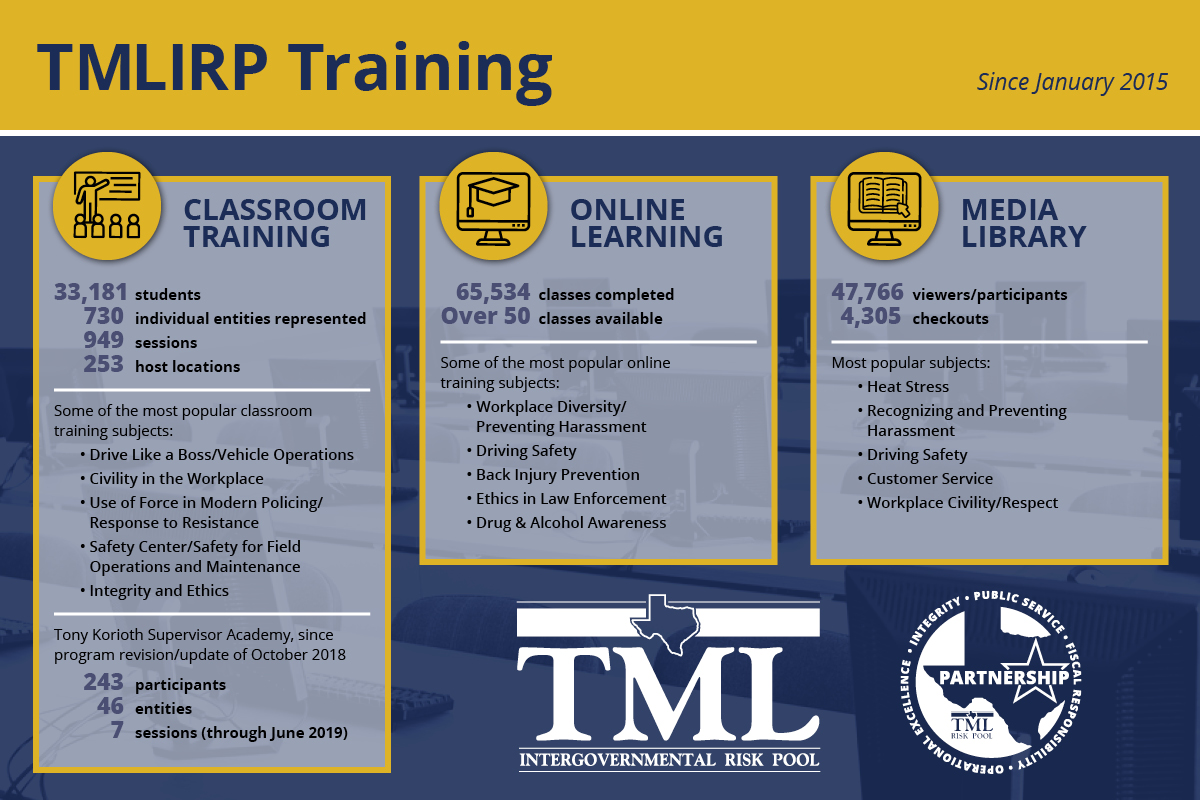 Why Training is Important
Employee training is essential for any organization. There is always resistance to training for many reasons, including the time away from work and costs. Without training, you will keep getting what you have always gotten: employee injuries, property damage, unfinished work, low morale and attitudes, and employee turnover. If we continue without proper training, these costs will grow. Training is an area in which all public officials, managers, supervisors, and employees can help reduce the escalating cost of operating a governmental entity.
If you recognize the need for training, then you will:
Create a safe environment. Training promotes safety and health so employees will not be hurt on the job or on their own time, which often leads to issues in the workplace.
Improve employee engagement, innovation, and effectiveness. Investing in training improves employee engagement, and engaged employees are more productive. An engaged employee is one who has a feeling of personal connection to or pride in their work. Connecting your employees to opportunities to develop skills and abilities on an ongoing basis means that your organization will be prepared to respond to changing circumstances. Having well-trained employees leads to higher motivation and increased respect for the citizens. Investing in employee development increases job satisfaction and employee retention rates.
Will costs be better managed by taking a pro-active approach instead of a re-active approach? Considering most accidents and lawsuits are direct results of employees not receiving the proper training, or worse having training that was not focused or used after the employees received the training. Training helps reduce risk and additional costs and develops a more efficient and motivated work environment. Training is an important part of our lifestyle today due to all the changes in technology that create new methods and tools for how employees perform their jobs.
Stay current with changing laws and court decisions
Changes also occur with court decisions and legislation that affect governmental employees each day. Training that is often overlooked are those issues that may seem incidental to a person's work yet lead to major issues if not addressed early on; for example, the Americans with Disabilities Act, sexual harassment, and workplace ethics. One reason it is recommended to provide training to employees and supervisors on the subject of sexual harassment is because of a Supreme Court ruling. In the decision, the Court said that an employer could be held liable for sexual harassment if the organization failed to exercise reasonable care to prevent and promptly correct any such behavior in the workplace. An employer's responsibility to exercise reasonable care includes ensuring that its supervisors and managers understand their responsibilities under the organization's anti-harassment policy and complaint procedure. An organization that has an effective compliance and ethics program can reduce its exposures whereby the entity does not take valuable time to defend such action.
Training is necessary to reduce injuries, vehicle accidents, and property losses. Training needs to become personal to the individual to change attitudes and conduct. Continuing to manage and contain workers' compensation, liability, and property losses by doing more of the same will not change a thing; however, becoming proactive by looking at different approaches such as providing pro-active training will help lower your risks.
What is the Risk Pool doing to help its members?
Each year the Risk Pool provides a variety of training to over 50,000 employees throughout its membership. TMLIRP understands that the high cost of travel and the work demands of today's busy employees make it difficult to attend training. The Risk Pool, through member suggestions and assistance, provides the best quality training possible with well-informed and educated instructors in fields recognized by local government entities. It has always been important to have the best possible methods to deliver the training. Having the research and curriculum developed properly is time-consuming but necessary to have good quality training. Members are not charged any additional fees for the training, as it is part of their membership, making training affordable. Training is often held onsite at member facilities using the classroom or other facilities for hands-on training. Stepping into the modern world of technology has enabled the Risk Pool to provide online learning, webinars, and YouTube videos. Each approach is focused on what is best for the members, providing practical methods for treating possible risk exposures. Not all exposures are can be eliminated, making it more important to be proactive in reducing the risk exposure.