Everybody in the Lone Star State agrees that Texas BBQ is the best but where to find the top BBQ joint in the state is open for fierce debate.
Heck, most Texans will drain a pitcher of sweet tea arguing the proper spelling for the slowly smoked meat goodness: is it BBQ or barbeque or bar-b-q? Any way you spell it, there are more than 2,000 places across Texas serving up their interpretation of a cooking style popularized in Texas by German and Czech immigrants in the 19th century.
Texas BBQ certainly is improving with age as Texas Monthly called this the "Golden Age of Texas BBQ" in 2017. So where can you find the best brisket, pork and beef ribs, sausage, chicken, turkey breast and pulled pork? Check out our list of the Top 10 Places for Texas BBQ.
10 The Salt Lick BBQ
18300 FM 1826, Driftwood, TX 78619 * 512-858-4959
www.saltlickbbq.com
The Salt Lick BBQ has been serving mouth-watering BBQ in Texas Hill Country since 1967. Check out the original Driftwood location where you can take advantage of "family style" all-you-can-eat beef brisket, pork ribs, sausage, cole slaw, potato salad, and beans. Sunday Specials range from prime rib to habanero chicken.


9 Killen's Barbecue
3613 East Broadway, Pearland, TX 77581 * 281-485-2272
www.killensbarbecue.com
Ronnie Killen, a Le Cordon Bleu-trained chef, has had folks in the Houston area lining up for his signature brisket and beef ribs since 2013. Do not miss Killen's fried chicken pop-up events and sought-after sides such as creamed corn and desserts like croissant bread pudding with tres leches sauce.


8 Terry Black's Barbecue
1003 Barton Springs, Austin, TX 78704 * 512-394-5899
www.terryblacksbbq.com
Twins Mark and Michael Black opened this location in 2014, building on the knowledge of their father Terry a BBQ legend out of Lockhart. Choose your meats right from the cutting-block with beef ribs, homemade beef sausage and pork ribs all favorites. Entertaining later? Check out the whole frozen brisket.


7 Kreuz Market
619 North Colorado, Lockhart, TX 78644 * 512-398-2361
www.kreuzmarket.com
Kreuz Market has been serving up brick pit BBQ since 1900 and is a classic down-home picnic table and butcher paper restaurant. A must is the shoulder clod, a cut that is leaner than brisket and has an intense beefy flavor. Kreuz is also known for its juicy pork chops.


6 Pecan Lodge
2702 Main, Dallas, TX 75226 * 214-748-8900
www.pecanlodge.com
Where there is smoke, there is flavor is the Pecan Lodge's motto since opening in 2010. Pecan Lodge has graduated from the Dallas Farmer's Market to their Deep Ellum neighborhood location, but they are still grinding and stuffing their own jalapeno-cheese beef sausage. The popular "Pitmaster" sandwich features three meats.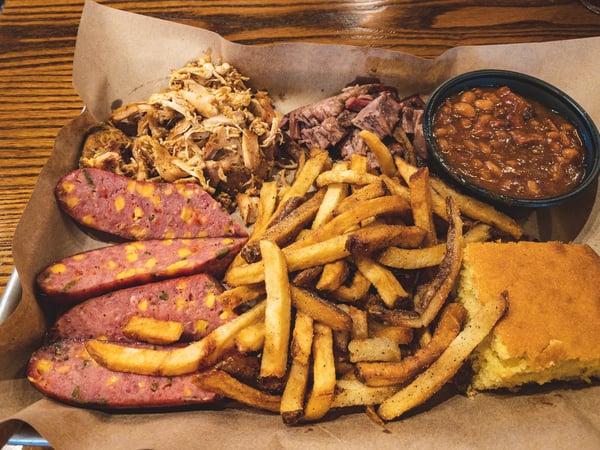 5 Micklethwait Craft Meats
1309 Rosewood, Austin, TX 78702 * 512-791-5961
www.craftmeatsaustin.com
Those waiting in line for Franklin Barbecue may not know they are steps away from a place where you can get BBQ as well as craft meats such as kielbasa and andouille. Micklethwait's weekly specials, such as hatch chile mac and cheese and Maine wild blueberry cheesecake compliment the meats.


4 Tejas Chocolate + Barbecue
200 North Elm, Tomball, TX 77375 * 832-761-0670
www.tejaschocolate.com
Why choose between barbecue and chocolate when you can have both! What started as a chocolate craftory now serves some great BBQ. Try their "Good Texan" sandwich, a chile relleno sausage on a brioche bun with ranchero sauce and a fried egg. Also, do not forget the truffles to go.


3 Louie Mueller Barbecue
206 W. 2nd, Taylor, TX 76574 * 512-3526206
www.louiemuellerbarbecue.com
Opened in 1949 and operated by a third-generation Mueller, pitmaster Wayne Mueller, this BBQ joint has been called the Cathedral of Smoke. Check out the peppered brisket and see why this place won a James Beard award and has been named the Best BBQ in Texas by Bon Appetit magazine.


2 Snow's
516 Main, Lexington, TX 78947 * 979-773-4640
www.snowsbbq.com
Located in Lexington with just over 1,100 people, Snow's is small-town hospitality with world-renowned taste having been voted Best BBQ in Texas multiple times by Texas Monthly. 85-year-old pitmaster Tootsie Tomanetz is still cooking and shipping BBQ during the COVID-19 pandemic and hopes to reopen their doors on Saturday's soon.


1 Franklin Barbecue
900 E. 11th, Austin, TX 78702 *512-653-1187
www.franklinbbq.com
The pitmaster as a Rock Star might be the Aaron Franklin story whose meat smoking ability has had BBQ fans standing in line for hours for years now to sample his award-winning brisket. From best-selling cookbooks to foodie shows to Presidential visits, Franklin Barbecue has deservedly been in the spotlight.