Choosing an artificial Christmas tree may save you time and money, but you miss out on taking part in a fun, festive holiday activity that will create memories that last a lifetime. This year, instead of unpacking the old plastic artificial tree or heading to the nearest big box store and buying a new one, consider taking a trip to a local Texas Christmas tree farm.
Benefits of Getting a Real Tree for Christmas
The following are examples of why you should consider getting a live Christmas tree: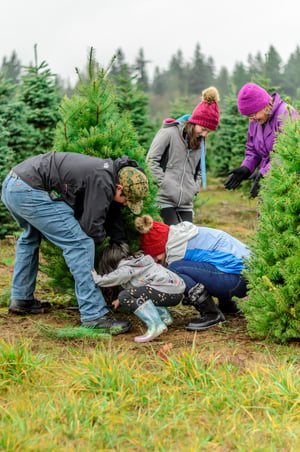 Unique smell – freshly cut Christmas trees have a very distinctive smell. No air freshener or candle can truly recreate the scent of a Christmas tree freshly cut from a local farm.
Creates a new holiday tradition that can be enjoyed by the entire family
Environmentally friendly – live trees are 100% biodegradable
Helps the environment
Supports local small businesses
Christmas Tree Farms in Texas are Winter Wonderlands
Christmas tree farms are more than just large patches of land filled with rows and rows of pine trees. They are little winter wonderlands.
Owners of Christmas tree farms go out of their way to transform their property into magical winter wonderlands by offering a variety of fun, festive activities. These activities, which can range from visits with Santa to hayrides and holiday crafts, add a touch of Christmas magic to your tree buying experience.
Discover the Best Christmas Tree Farms in Texas
The best Christmas tree farms are the ones that not only have a large selection of trees to choose from, but they go out of their way to create a magical and memorable experience. If you are considering purchasing a live Christmas tree this year, visit any one of the following Texas Christmas tree farms for an experience that will create memories that will last a lifetime.
Dewberry Farm located in Brookshire, Texas
With over 40 acres of land dedicated specifically to growing pine trees, it is no surprise that people from all over the state of Texas come to Dewberry Farm every Christmas. It is so a popular because its huge, diverse selection of trees means you are almost guaranteed to find the perfect Christmas tree.
In addition to the tree farm, Dewberry Farm offers visitors the chance to ride about a fun mini train, visit a sweet shop and even take photos with Santa.
Mill Hollow Christmas Tree Farm in Oakhurst, Texas
Mill Hollow Christmas Tree Farm is where you go when you want to get away from "big city living" and go to a magical winter wonderland. This tree farm is hidden away in the middle of a lush forest which gives it a magical, whimsical feel.
Yesterland Farm in Canton, Texas
Adventure awaits you at Yesterland Farm. First, you can trek through the acres of trees to find the perfect Christmas tree. Once selected, you can cut it down and make your way back to the farm, but the fun doesn't stop there. At the farm, you can hop aboard a small roller coaster known as Santa's Runaway Sleigh, take part in holiday activities and stop and have a chat with Santa.
Other Popular Christmas Tree Farms in Texas
Other popular Christmas tree farms in Texas include:
Bozeman's Christmas Tree Farm – Lumberton, Texas
Kadee Farm – Greenville, Texas
Holiday Acres – Manvel, Texas
Elves Christmas Tree Farm – Denison, Texas
Spring Creek Growers – Magnolia, Texas
Seiler's Christmas Tree Farm – Seguin, Texas
Plantation Pines – Tyler, Texas
Part of what makes picking out a live Christmas tree so much fun is the chance to spend time together as a family. Whether this is your first time going tree hunting or it is a long-standing holiday tradition, all of these Christmas tree farms in Texas are uniquely designed to create memories that last a lifetime.