Hail is a common occurrence in Texas, especially during the spring and summer months. Hail pellets can range in size from as small as peas to the size of grapefruits. Despite the great publicity often generated by hurricanes, hailstorms are the most damaging weather events that Texans face annually. Unlike hurricanes, hailstorms occur in every part of the state. According to the Insurance Information Institute, in 2018, Texas had 508 major hail events, earning it the #1 spot in the United States for hail losses. By comparison, 2016 and 2017 produced even larger losses. In 2017, Texas ranked #1 in estimated number of properties affected by hail damage with a total of 1,349,374. This totals 18% of all properties in the state. Texas also ranked first for average losses per year from 2000-2013, and accounts for over 20% of all hail claim losses since 2000. Hail losses for the Pool are very similar to the overall trends for the state during this time period.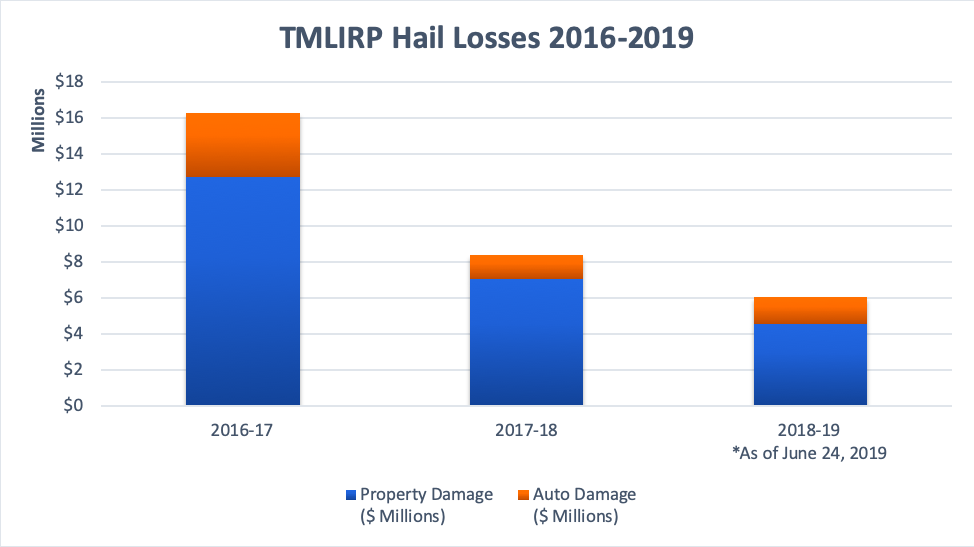 Although hailstorms are costly and unavoidable, there are a few proactive steps that members can take to minimize property loss and to help the claim process transpire smoothly. When weather forecasts provide advance hailstorm warnings, consider moving the most valuable vehicles and heavy equipment to a protected area. If possible, take precautions to protect vehicles and buildings from water intrusion and further damage by covering broken windshields and windows after the storm.
What should be done after a hailstorm? First, look for the most obvious signs of damage, such as broken windshields, shattered windows, pockmarked buildings with missing shingles, dented roof vents and vehicle hoods, and gutters and down spouts containing an excess of roof shingle granules. Call the Pool to report the loss, but there is no need to wait for an adjuster to arrive before taking action to protect the property and mitigate damages. Take photos of the damage prior to starting temporary repairs, and then proceed with any temporary repairs that are necessary. Save receipts and provide the adjuster with copies. If storms continue for several days, it may be necessary to delay roof inspections. Damages may not be visible if roofs are inspected when shingles are still wet. It is recommended that inspections occur after roof areas have completely dried. If hiring a water mitigation company, be certain to obtain agreed scopes and pricing from the vendor before the work begins. This will ensure that the rates and estimates are reasonable and appropriate for the area to be cleaned. Coordinating and organizing repairs for large vehicle fleets and multi-structure losses can be a challenging process. Some members have incorporated portions of the damage repair estimates (prepared by field adjusters) into their outsourced bidding packages. By doing this, it ensures that they receive "apples-to-apples" comparisons from competing bidders. All pertinent measurements and materials can be incorporated into bidding packages, while pricing from field adjuster estimates can be omitted. This is one method that can be used to ensure that the scope and materials being bid upon are the same.
Despite the calamities of unpredictable hailstorms, you can be prepared by knowing what to look for after the hailstorms move on.
The Pool also offers a program to its members to assist during property roofing claims. The "Building Envelope Systems Team" program (BEST) strives to provide members with a one-stop shop for building envelope repairs which enhance roofing performance, hail resistance, energy efficiency and reduced maintenance costs. Key components of the BEST program:
Work directly with Member to determine roofing needs

Design roof with emphasis on hail resistance, energy efficiency and ease of maintenance

Assist with procurement

Oversee repair process

Ensure warranties are in place

Risk Pool pays all fees.
For information on this program or other Risk Pool services, please contact your member services manager or the property claims department.